Press Capabilities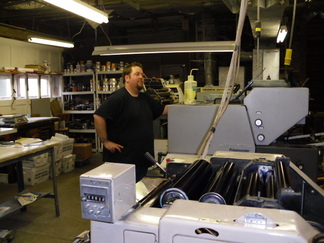 Our printing facility boasts a mixture of digital and sheetfed machines so gives our customers total flexibility for their print run, and ensures a fast turnaround time for jobs.
All of our machines use the same size print reels so, in the unlikely event that one of our printing presses should break down for a short period of time, we can simply move your job to another machine to ensure that any disruption is kept to a minimum. We understand implicitly the need to deliver on time.
All of our machines are based on the one site so the process of moving jobs between machines can be done quickly and efficiently.
Our printing presses are maintained to a strict maintenance program by our own in-house team of specialist engineers, rarely do breakdowns impact on any delivery schedules.
We are constantly investing in new printing machinery to ensure we operate some of the most state of the art and environmentally friendly printing machinery available.
LETTER PRESS PRINTING
Heidelberg Windmill Printing Press : 10 x 15
DIGITAL PRINTING
Konica Minolta C6500 Bizhub Pro : 13 x19
OFFSET PRESS PRINTING
Heidelberg Printmaster QM 46 2-color w/Air Tech IR Drier : 13 x 18
Harris Model L 1 color : 19 x 25
Ryobi 2800 XL 1 color : 12 x 18
AB Dick 360 CD 1 color : 11 x 17
---